The 2021 Subaru Love Promise Community Commitment Award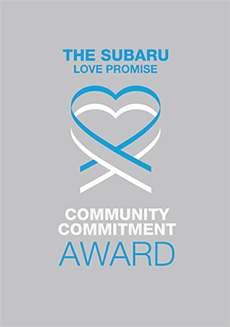 We've been nationally recognized for our dedication to our community and the Subaru Love Promise.
We're honored to receive the 2021 Subaru Love Promise Community Commitment Award. This award nationally recognizes Subaru retailers who are making the world a better place while demonstrating an outstanding commitment to supporting passions and causes in local communities. These efforts are focused in important areas such as the environment, community, health, education, and pets.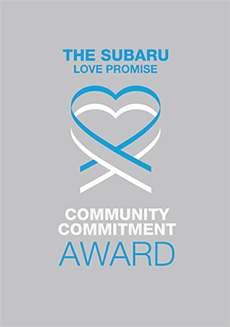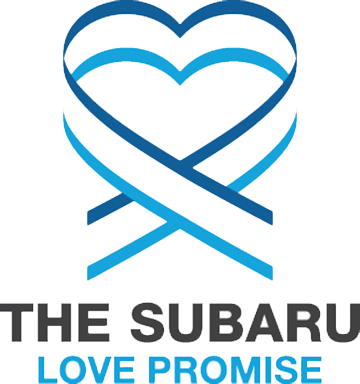 What is the Subaru Love Promise?
Subaru and our retailers believe in making the world a better place and the Subaru Love Promise is our vision of respecting all people. This is our commitment to show love and respect to our customers and to work to make a positive impact in the world.
How is Sierra Subaru of Monrovia dedicated locally to the Love Promise?
Our Love Promise can be seen in various partnerships with local charities and non-profits. We're grateful for the opportunity, not only to be a part of our community, but to serve it as well.
Bradoaks Elementary School
Love Promise Stories from Sierra Subaru of Monrovia
Subaru and Sierra Subaru of Monrovia believe in making a positive impact on the communities in which we live and work. We uphold that belief through our Love Promise Community Commitment. Every month, we select inspiring stories from customers and partners from around our area who strive to support our collective commitment and feature them here
Executive Volunteer Day - Mayra N
As part of the Subaru Love Promise Dealer Principal- Peter Hoffman and General Sales Manager- Ellen Leung of Sierra Subaru and other Executive Managers from surrounding Subaru Retailers partnered with Feed America and donated their time to giving back to the community by volunteering at a local food bank. On this day, Peter & Ellen and other executive level managers were able to prepare 1,575 Food Kits that will help to feed over 6,300 families in the local community. This is what the Subaru Love Promise is all about, giving back to the communities in which we live and serve.
---
Share the Love with Foothill Unity Center - Betty M
Tuesday, 08 December, 2020 Sierra Subaru proudly donates $39,782 to the Foothill Unity Center as part of the Subaru Share the Love Event. Thank you to all our Sierra Subaru customers over the year who helped raise this amount to help families in need during these difficult times. Thank you to Foothill Unity Center for all your hard work and contributions across the San Gabriel Valley. "Working together to help our neighbors in need during challenging times. Thank you to Sierra Subaru for designating Foothill Unity Center as their charity of choice for this year's "Share the Love" campaign. Thank you to everyone that supported the Center through Sharing the Love. A portion of every new car sold or leased between November 2nd, 2019 and January 2nd, 2020 was donated to the Center. Neighbors Helping Neighbors! " - Foothill Unity Center
---
Sierra Team Volunteers at the Food Bank - Noemi T
On Wednesday September 23rd, 2020 the Subaru Team volunteered at the Los Angeles Regional Food Bank to assemble food kits for people in need. Our volunteers met at 9am on Wednesday morning at the LA Regional Food Bank, located in Commerce, CA, where they were given their job titles and instructions on how to assemble the boxes by way of assembly line. Social distancing, as well has face mask and glove wearing were enforced to keep everyone safe and healthy. Each volunteer was either assigned a specific product to put in every box or to tape the boxes up and stack them on pallets. By the end of the volunteering shift, arms were sore and hearts were full as the volunteers learned that they assembled and loaded approximately 1,897 food kits on to pallets to be delivered to local schools. Food donations came from local grocery stores as well as Subaru.
---
Pasadena Humane Society Gift Donation - Michelle H
This year, the Pasadena Humane Society got approved for the Subaru Grant and we surprised 10 adopters with fee waived adoptions and gift bags for their new furry pets during the Pasadena Humane virtual adoptions on November 2020. "Adopted pets include Thor, a 5 year-old lab, and 11-week-old sibling kittens Teddy and Tiger. One of the sweetest adoptions of the day was Triana, a 4-month-old kitten with only three legs. Triana's adopter had been looking for his "purr-fect" match for months before finding this adorable tripod kitty." - Michelle Holbrook
---
Blanket Donation - David S
Last November, as part of Subaru Loves to Help and in recognition of National Homeless Youth Awareness Month, Subaru and Sierra Subaru of Monrovia donated 80 blankets to the Union Station Homeless Services to help the youth and all those that are homeless. "Union Station Homeless Services has been helping people in needs since 1973 in Pasadena Ca. and since then we now service the San Gabriel Valley coordinating the efforts of more than 40 social services agencies in an effort to end chronic, veteran and family homelessness in the region. Our outreach team will distribute the donated blankets to people in need in the streets, we will also provide these blankets to families and participants in our programs. Many thanks!" - David S.
---
Sierra Subaru Donate Blankets to City of Hope - Rachel W
On July 18th, The Leukemia & Lymphoma Society California Southland Chapter had the pleasure and wonderful opportunity of delivering 80 blankets, art & craft kits at the City of Hope Medical Center for a special Loves to Care donation drop-off. These comforting gifts were accompanied by personalized messages of hope written by customers and staff of Sierra Subaru of Monrovia and LLS staff. This incredible act of generosity was warmly received by City of Hope staff who were thrilled and appreciated the support of Sierra Subaru of Monrovia. One of LLS's amazing and dedicated volunteers, retired pediatric nurse and survivor was there and made the visit all that more special and inspiring. City of Hope staff hearts were overfilled with joy and gratitude. Many heartfelt thanks to everyone at Sierra Subaru of Monrovia and City of Hope, not only for a memorable day, but for supporting LLS's mission to cure blood cancers and improve the quality of life of patients and their families. Thank you Sierra Subaru of Monrovia for all you do.
---
Sierra Subaru Donation to City of Hope with LLS - Angela S
Sierra Subaru of Monrovia teamed up with the Leukemia & Lymphoma Society's California Southland Chapter to donate and personally deliver a large quantity of craft kits and blankets to the Sheri & Les Biller Patient and Family Resource Center at City of Hope. This act of generosity was warmly received by the staff at City of Hope, who was elated to receive so many comfort items to distribute to patients and caregivers in need. The Biller Center helps connect patients and caregivers with resources to accelerate their recoveries and make their experiences in the hospital less of a burden. For that reason, it was amazing to have the support of Sierra Subaru of Monrovia and nurture this incredible hospital resource! Our mission at the Leukemia & Lymphoma Society is not just find a cure but to help improve the quality of lives for our patients and we hope this small jester will give some support and comfort to patients at City of Hope.
---
Subaru and NWF Loves the Earth - Matthew K
Thank you to Subaru for supporting our Titan Garden Club. Great job Titans!
---
Subaru & California Southland Chapter of LLS - Toni H
When we here at the California Southland (CalSo) Chapter of LLS heard about the Subaru Loves to Care partnership, we immediately knew that we had to send the blankets to City of Hope. We have had a so many patients who are near and dear to us treated at City of Hope. One patient in particular who has truly inspired our chapter is five-year-old, Aubrey. She was diagnosed with Acute Lymphoblastic Leukemia (ALL) at age 2 after experiencing a week long on and off temperature concentrated in her stomach area. Aubrey was treated at City of Hope, where she completed treatment on July 12, 2015. She will begin first grade in August, and she loves going to hula dance lessons and ballet. Her favorite color is blue. And because of amazing partners like Subaru, we know that Aubrey will one day fulfill her dream of seeing the Eiffel Tower. I have attached her picture. When we shared this partnership with our Chapter, all of our campaigns wanted to be involved to show their thanks and support. Your generosity has meant the world to not only our LLS volunteers, but to the staff and patients at City of Hope. We documented this journey from sign making to blanket delivery to Subaru's impact. Thank you to Subaru National and the four dealerships from our area who donated the blankets: Puente Hills Subaru, Sierra Subaru of Monrovia, Subaru of Glendale, and Timmons Subaru. We hope you enjoy what this small chapter from Los Angeles has put together for you!
---